Discover the Night
Sponsored by Friends of the Pine Bush Community
Thank you!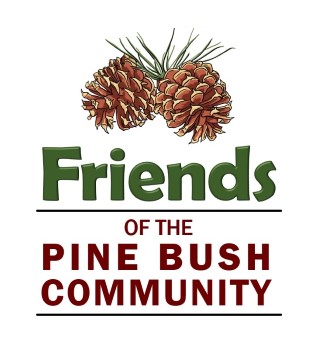 Your contribution can fund school bus trips for students, protect land, aid experiences for interns, expand research capabilities and preserve habitat restoration or support educational programming for the Albany Pine Bush Preserve Discovery Center.

Special programs include: the 20 Mile Challenge (awarded for completion of all 12 trail hikes through the preserve), Ticket to Ride (funding for transportation for school groups to visit the preserve), Pine Bush Perspectives (a traveling photo show), the Land Protection Fund (a designated fund that allows for the purchase of additional preserve acreage as available), and special events throughout the year, including Discover the Night.

The role of the Friends is to support the staff at the Pine Bush in their efforts to improve public awareness, provide public and school programs, do important science, and develop the preserve.

In addition to all the maintenance that is performed on a day-by-day basis, the Albany Pine Bush Preserve is still growing and improving. While we are pleased with what has been accomplished, a lot of work still needs to be done, and to succeed, more people need to be aware of how special the Pine Bush is and how its future depends on public and governmental support.

To contribute to the Friends' efforts, click here and choose the Join/Donate icon on the right. Also, please consider joining the Friends and serving as a committee member, click the "Volunteer With Us" link and let us know if you'd like to join us by emailing info@pinebushfriends.org. Above all, enjoy the Pine Bush and tell your neighbors!